I talk a lot about the concepts of transformative justice and community accountability on this blog. As such, I thought that it would be a good idea to create a page that focuses on both of these ideas and also shares some resources that I have found useful in developing my analysis over the years. This is a work in progress so I expect that this page will continue to evolve.
COMMUNITY ACCOUNTABILITY
This s a concept that has been advanced and theorized by Incite! Women of Color Against Violence.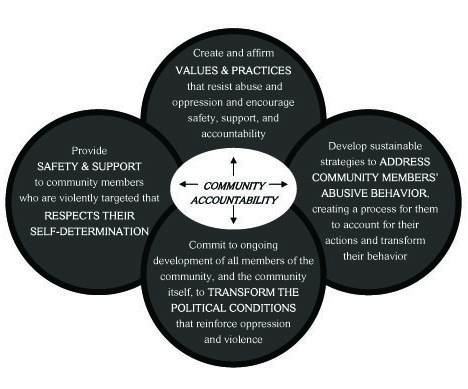 "HOW DO WE ADDRESS VIOLENCE WITHIN OUR COMMUNITIES?"

We are told to call the police and rely on the criminal justice system to address violence within our communities. However, if police and prisons facilitate or perpetrate violence against us rather than increase our safety, how do we create strategies to address violence within our communities, including domestic violence, sexual vioelnce, and child abuse, that don't rely on police or prisons?

Community accountability is one critical option. Community accountability is a community-based strategy, rather than a police/prison-based strategy, to address violence within our communities. Community accountability is a process which a community – a group of friends, a family, a church, a workplace, an apartment complex, a neighborhood, etc – work together to do the following things :

Create and affirm VALUES AND PRACTICES that resist abuse and oppression and encourage safety, support, and accountability

Provide SAFETY AND SUPPORT to community members who are violently targeted that RESPECTS THEIR SELF-DETERMINATION

Develop sustainable strategies to ADDRESS COMMUNITY MEMBERS' ABUSIVE BEHAVIOR, creating a process for them to account for their actions and transform their behavior.

Commit to ongoing development of all members of the community, and the community itself, to TRANSFORM THE POLITICAL CONDITIONS that reinforce oppression and violence. "
You can read more about Community Accountability via this Incite Fact Sheet (PDF).
TRANSFORMATIVE JUSTICE
This is a concept that has been theorized by a number of individuals and organizations over the years. In the past decade, Generation Five has done a lot of work to theorize the concept specifically as it applies to gender-based violence.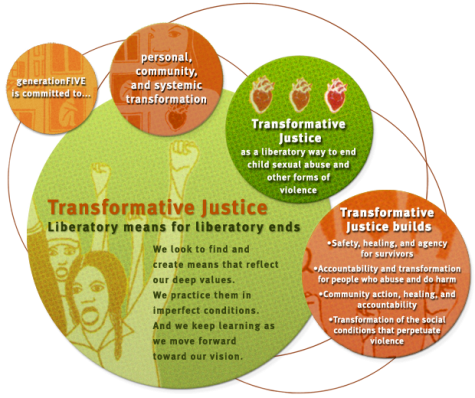 "Transformative justice [is] a liberatory approach to violence…[which] seeks safety and accountability without relying on alienation, punishment, or State or systemic violence, including incarceration or policing.

Three core beliefs:

Individual justice and collective liberation are equally important, mutually supportive, and fundamentally intertwined—the achievement of one is impossible without the achievement of the other.

The conditions that allow violence to occur must be transformed in order to achieve justice in individual instances of violence. Therefore, Transformative Justice is both a liberating politic and an approach for securing justice.

State and systemic responses to violence, including the criminal legal system and child welfare agencies, not only fail to advance individual and collective justice but also condone and perpetuate cycles of violence.

Transformative Justice seeks to provide people who experience violence with immediate safety and long-term healing and reparations while holding people who commit violence accountable within and by their communities. This accountability includes stopping immediate abuse, making a commitment to not engage in future abuse, and offering reparations for past abuse. Such accountability requires on-going support and transformative healing for people who sexually abuse."

Source: Toward Transformative Justice (PDF) by Generation 5
RESOURCES
Philly Stands Up. Accountability Road Map (PDF) From the The Abolitionist – A Publication of Critical Resistance (Spring 2012)
Incite! Women of Color Against Violence. The Color of Violence: the incite! anthology (2006).
Incite! Women of Color Against Violence. Community Accountability in the People of Color Progressive Movement (PDF) (2005)
Community Accountability: Ideas, Actions, Art, and Resources for Communities Responding to and Transforming Violence (2012). This is an indispensable resource that includes a link to the new Creative Intervention Community Accountability Toolkit among many other important tools.
Russo, Ann and Spatz, Melissa. Communities Engaged in Resisting Violence (PDF) (2007)
Wallace, Lewis and Bazant, Micah (2012) – Miklat, Miklat: A Transformative Justice Zine (PDF)
Law, Vikki. Resisting Gender Violence Without Cops or Prisons (Video)
The Revolution Starts At Home (PDF)
Incite! Women of Color Against Violence. The Revolution Will Not Be Funded: Beyond The Non-Profit Industrial Complex (2009).
Situate to Participate: A TJ 101 Annotated Bibliography and Curriculum
Philly Stands Up's Zine — A Stand Up Start Up Zine (PDF)
Morris, Ruth. Stories of Transformative Justice (2000).
Taking Risks: Implementing Grassroots Community Accountability Strategies (PDF) by CARA from The Revolution Starts At Home Zine.
Thoughts About Community Support Around Intimate Violence Zine (PDF)
A World Without Walls: Stoppin Harm & Abolishing the Prison Industrial Complex (PDF) From The Abolitionist (Spring 2012)