Last week, I offered a summary of some of the key issues related to the prison industrial complex in 2013. Since the main focus of my work is actually juvenile justice & youth criminalization, I decided to make another list that addresses some key 2013 developments in those areas.
1. The U.S. youth incarceration rate continues to decline but we still lock up too many children.
One of the most heartening trends over the past decade has been the steady decrease in the use of incarceration to address youth crime and misbehavior.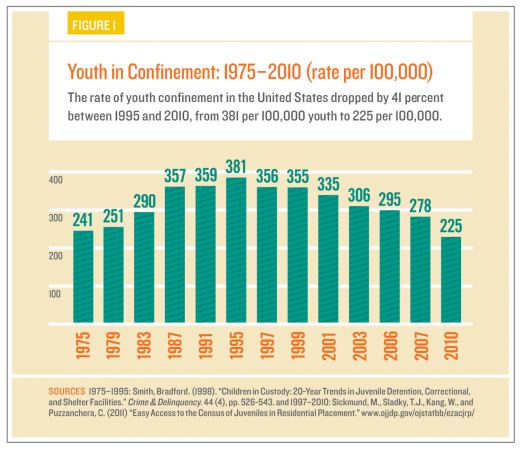 According to a new report:
"For the 2001-to-2011 ten-year period, the number of confined youth declined by 41% nationwide, or an annual average decline of 4.1% — a dramatic drop since 2000, when a record-setting 108,802 youth were held in detention centers awaiting trial or confined by the courts in juvenile facilities in the U.S. The nationwide decline in 2011 (from 70,793 to 61,423 youth) continues the trend from the previous year (the latest for which data is available), which showed youth confinement was reduced by 32% nationwide from 2001-2010."
Unfortunately, poor black children remain disportionately targeted.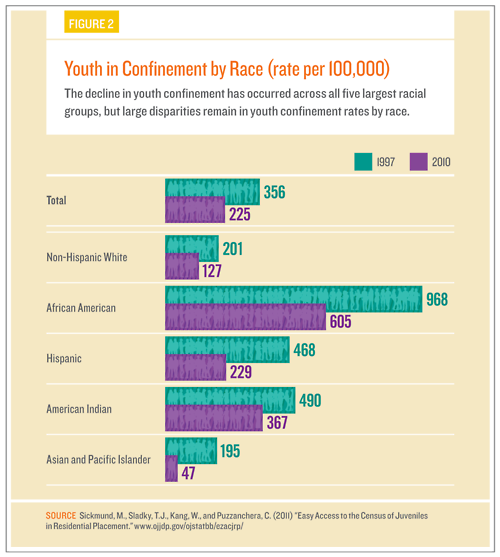 Since all credible research shows that incarceration and detention don't work, many jurisdictions are relying more regularly on alternatives to youth incarceration.
2. School closings in urban centers overwhelmingly impacted youth of color (black children in particular)..
Victor Hugo has written that: "He who opens a school door, closes a prison." It stands to reason that the reverse is also true: "He who closes a school door, opens a prison." Chicago roiled in 2013 with grassroots opposition to the proposed closures of over 50 schools. Opponents contended that these school closings were racist as they would disproportionately target black students and increase the likelihood that they would be pushed out of school. Some background resources about Chicago's school closings can be found here.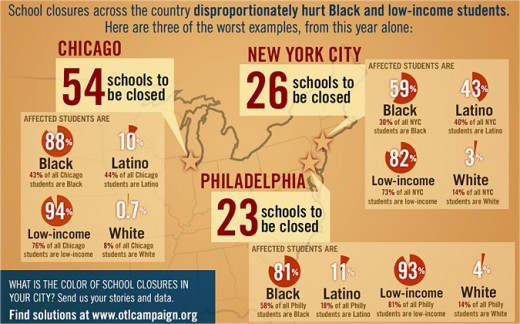 Some of the most vocal opponents of school closures in Chicago, Philadelphia, D.C. etc… were students themselves. 9 year old Asean Johnson became a household name when he spoke out forcefully against Rahm Emanuel at a rally that I attended.
Students at Williams Elementary organized a sit-in to protest their school's proposed closing.
In the end, Rahm Emanuel and his appointed school board shut down nearly 50 schools. This was the largest mass school closing in the U.S.