I should express requisite shock but I haven't the energy to perform. Another viral video shows a Black girl thrown across her classroom by a white cop who outweighs her by 150 pounds (at least).
I'm not shocked. Not in the least. I don't wear this admission like a badge of honor. I'm not desensitized or blase. I just know that treating Black children carelessly and roughly is the norm. We all know this even those who want to pretend they don't.
There are cops in schools. Everyone also knows this. The proponents of this policy say that it's to 'keep students safe.' These words pour out without irony even as research suggests that having police in schools usually escalates minor discipline issues.
Last year, in Chicago, there were over 3000 youth arrests inside our public schools. The vast majority of these (77%) were Black students. Girls made up 32% of the school-based arrests. How many Black children were thrown across their classrooms with no video evidence?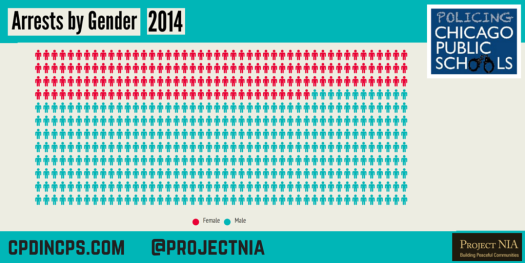 The myth of officer friendly will not and cannot die. It doesn't matter how many videos are produced showing Black children being brutalized. Too many people need and want cops to do their dirty work. The cop in that video is a stand-in for a society that hates Black children. Break the Black girl before she grows. Beat her down and then make sure she knows that anyone who comes to her defense will be punished too. Neutralize the threat. The message is clear as day: 'You are insignificant, a nothing and we can crush you at will.'
The sad spectacle of impotent and complicit adults online and offline does nothing to inspire confidence in the young. Black children learn early that no one will save them from brutalization by the state and its agents. In fact, most adults like the teacher in the viral video will invite state brutalization in the name of 'safety.' At best safety as a concept is rendered a meaningless farce. At worst, safety becomes an additional means or tool of subjugation and oppression.
While Rome burns and you with it, you'll hear some adults offer prescriptions for the problem that will make you despair. More 'training' for school resource officers, some will confidently assert. More cameras in schools, others will counter. Meanwhile, you and your friends will wonder who will simply remove the cops from your schools. Wouldn't that be the first place to start, you'll ask. You'll likely be greeted with the sounds of crickets because so many adults have ceilings on their brains. The result of decades of oppression that has left them without imagination or even good sense.
So you'll band together with your friends and organize to change the depressing reality. I know so many Black girls leading campaigns to end the school-to-prison pipeline.
It's you who give me hope. Black girl, I've seen you and continue to see you standing up in defense of your life and that of your sisters. #NiyaKenny, we speak your name.
You do the same for your brothers even as too many of them refuse to stand up for you. I've shed tears with you about this as you've continued to show up time and again in defense of their lives.
I'm blessed to witness your resistance. Perhaps it's why I don't despair for the future. How can I when I am privy to so much #BlackGirlMagic? There are few viral videos of your beautiful resistance and too many of your degradation. That isn't your doing, it is ours and we have to do so much better by you.