Take a look at the graph below. This is the result of many bad policy decisions but one stands out in particular…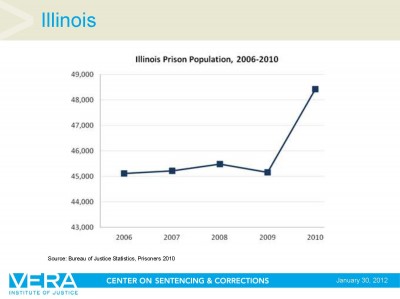 Some months ago, I wrote about the cowardice of Illinois politicians and the corruption of the media in a post about the suspension of the state's meritorious good time (MGT) program. Sure enough as many (including me) predicted, this disastrous political decision has had the effect of increasing the Illinois prison population by nearly 4,000 at an additional cost of nearly $100 million. I am of course not Nostrodamus. This was a completely foreseeable consequence of a dumb decision made by our Governor.
I attended a meeting about Illinois prison overcrowding on Monday and Malcolm Young once again spoke about the importance of reinstating MGT. He has written a new white paper (PDF) which is essential reading for anyone who is interested in the background on MGT, the political controversy and the consequences of the suspension of the program.
In the coming days, please look out for an opportunity to help push the Governor to instruct the Department of Corrections to reinstate MGT. I will be sharing the template of a letter that you can send to Governor Quinn as well as other ways that you can make your voice heard on this matter if you live in Illinois.
UPDATE: You can urge Governor Quinn to reinstate MGT by e-mailing, calling, sending a letter or signing a petition. Information is HERE.