There is a lot of anti-police violence work currently happening in Chicago. All of the projects are open to the involvement of more people. Below are some projects and campaigns with which to connect.
The Chicago Alliance Against Racist and Political Repression is organizing a forum on October 16 on their proposal for a civilian police accountability council. You can learn more about their work and the forum here. They need more people to help.
The Chicago Torture Justice Memorials need community engagement to pressure the Chicago City Council to pass a reparations ordinance to compensate some of the survivors of Jon Burge and his fellow police officers' torture. Contact your local alderperson and Mayor Rahm Emanuel and tell them to pass this ordinance.
We Charge Genocide is a grassroots, inter-generational effort to center the voices and experiences of the young people most targeted by police violence in Chicago. The initiative is entirely volunteer-run. The next monthly meeting is on October 21 at 5:30 p.m. Contact wechargegenocide@gmail.com if you would like to attend the meeting.
Direct Action
On October 22 at 6 pm, all Chicagoans are invited to attend a silent protest against police violence. You can RSVP on Facebook.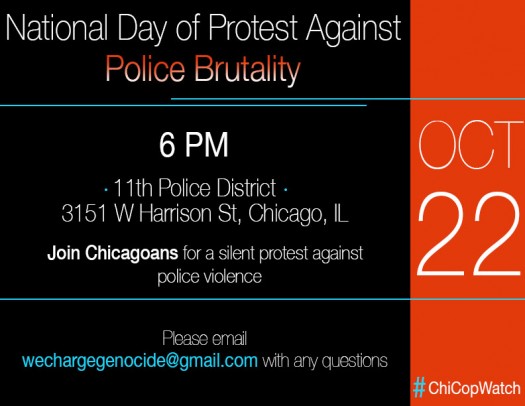 Training
October 15 – We Charge Genocide's next Copwatch Training is on October 15 at 5:30 pm. More information can be found on Facebook and you can register here.
October 24-26 — Street Medic Training: First Aid for Police Brutality and Community Violence – This hands-on course will prepare you to serve as a medic at political protests and to help people in your community. It is designed for youth and young adults organizing against police violence, closed trauma and mental health centers, and other health inequalities. It is open to everyone. No previous training in medicine or first aid is required. — Register here. Sliding Scale – No One Turned Away for Lack of Funds (Real cost of training = $150 per participant)
You will learn:
* Street medic field operations and prevention (4 hours) – How to stay safe and promote safety in high-stress scenes.
* Emergency response (4 hours) – What to do when one or more people have life-threatening injuries.
* Patient assessment and first aid (4 hours) – for wounds, internal bleeding, head injury, bone and joint trauma, and burns.
* Community health work (4 hours) – How to recognize medical emergencies like seizures and strokes, and help people with unmet emotional or basic needs.
* Operating in unsafe scenes (4 hours) – How to help in any weather, avoid dangers and care for injuries from police batons, crowds, dogs, tasers, tear gas, and handcuffs.
Friday, October 24th – 6-9:30pm
Saturday, October 25th – 9-7pm
Sunday, October 26th – 9-6:30pm
(*must be able to attend all 3 days of training)
*** Wheelchair Accessible ***
*** Free Childcare ***
***Spanish Interpretation Available***
If you want to make a contribution to this training, you can do so here.
Events
We Charge Genocide is releasing its shadow report to the UN about CPD violence against youth of color on October 22 at 9 am. All are welcome. Details are here.