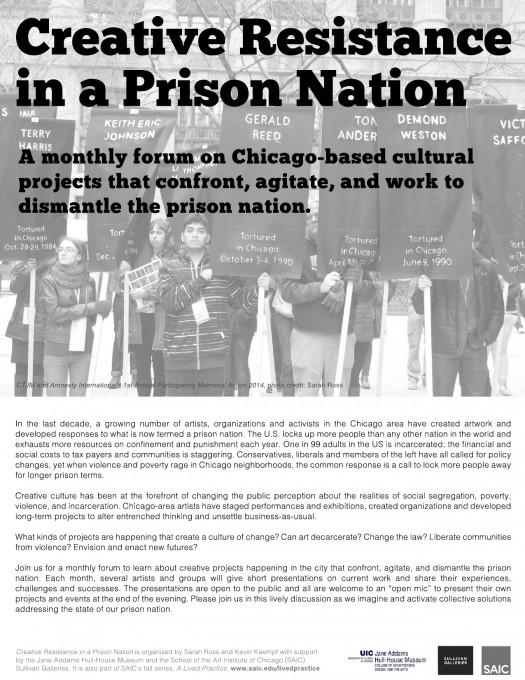 A monthly forum on Chicago-based cultural projects that confront, agitate, and work to dismantle the prison nation.
In the last decade, a growing number of artists, organizations and activists in the Chicago area have created artwork and developed responses to what is now termed a prison nation The U.S. locks up more people than any other nation in the world and exhausts more resources on confinement and punishment each year. One in 99 adults in the US is incarcerated; the financial and social costs to tax payers and communities is staggering. Conservatives, liberals and members of the left have all called for policy changes, yet when violence and poverty rage in Chicago neighborhoods, the common response is a call to lock more people away for longer prison terms.
Creative culture has been at the forefront of changing the public perception about the realities of social segregation, poverty, violence, and incarceration. Chicago-area artists have staged performances and exhibitions, created organizations and developed long-term projects to alter entrenched thinking and unsettle business-as-usual.
What kinds of projects are happening that create a culture of change? Can art decarcerate? Change the law? Liberate communities from violence? Envision and enact new futures?