End Demand Illinois has launched an ad campaign titled the "Ugly Truth." Messages about the sex trade are appearing on billboards and public transportation across Chicago and perhaps also across the state. I've heard from several friends and colleagues who shared their thoughts and feelings about the campaign. One friend agreed to write a post that I am proud to share here on Prison Culture.
The "Ugly Truth:" Ad Campaigns about the Sex Trade Will Always Fail…
by Hadil Habiba (pen name)
I was on the bus a couple of days ago when I saw an ad that stopped me in my tracks.  It read: "Prostitution. There's nothing victimless about it."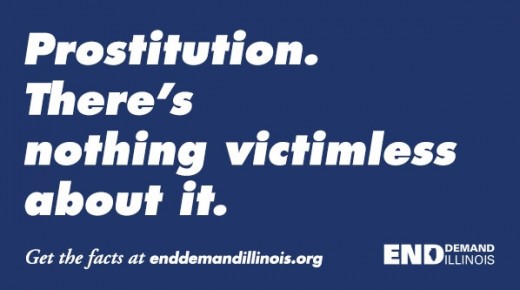 I felt like I was in a time machine that took me back to 1983 when conversations about the sex trade and pornography meant that no one's life experience could be complicated- we were all just food for "feminist theory." You know, when people spent a lot of time talking about 'prostitutes' and 'prostituted people' vs. 'sex workers', and acted like one of these words described everyone that trades sex for money or survival.
Those kinds of messages and thinking did not improve the lives of people in the sex trade then and won't today either.  I wondered why anyone would offer such a polarizing message. What purpose does it serve? We don't need to polarize people's experiences in the sex trade. We need a better understanding of those experiences in all of their complexities. I feel like I get sucked into this debate where I have to argue that lots of different parts of the sex trade exist, over and over again.  What is the investment that these well-intentioned people have in erasing a significant chunk of the people they claim to represent? It's not like there aren't voices out there that really disagree with this message. There are many but they are usually marginalized.
I quickly Googled the rest of the ads online and found the slogans "Get rich. Work in Prostitution" and "the average age of death of a prostitute is 34″.