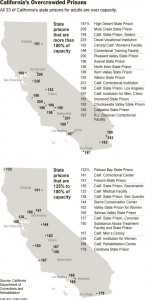 I'm really lucky. Since people know that I am interested in prisons, friends and acquaintances often send me items that they think I'll like. A couple of years ago, a friend's mother who was a prison abolitionist in the 1970s sent me some old issues of a feminist anti-prison publication titled "Through the Looking Glass." I put them in storage but recently I pulled out a couple of copies for an exhibition that I am planning. As I flipped through one issue, I came across a statement published by Women Against Prisons in 1978. It's incredibly relevant to what is currently happening around prison issues in California so I am republishing it. [Notice that Jerry Brown plays a central role here in 1978 - unbelievable]
STOP NEW PRISONS
Once again the law and order forces in California are pretending to solve the problems of poverty and crime by building new prisons. This year there are two separate actions pending in the legislature that would authorize millions of dollars for the construction of new prisons.
LAST YEAR'S VICTORY
Last year strong pressure from individuals and groups throughout the state stopped the allocation of nearly $100 million for 4-6 new men's prisons and 1 new women's prison. Two years ago similar pressure forced the closure of a behavior modification unit at the California Institution for Women (the state's women's prison). WE HAVE STOPPED THEM BEFORE. WE CAN AND MUST STOP THEM AGAIN!
THIS YEAR'S STRUGGLE
Despite last year's widespread opposition to prison construction, the California Department of Corrections (CDC), Governor Brown, and certain right-wing legislators remain firm in their commitment to lock up more people. As part of his strategy for getting votes in the upcoming gubernatorial campaign, Governor Brown has proposed that $100 million be allocated to build 5 new men's prison (to be located in Southern California) and one new women's prison (to be located in Northern California), a total of 2400 new beds. Additionally, Senator Robert Presley of Riverside has proposed the spending of $130 million on facilities for 3600 more prisoners. Both the Governor's proposed new prison budget and Presley's bill, SB1342, have to go through subcommittees and committees of both the Senate and Assembly this Spring (April or May 1978). If approved, they will then move on to the entire legislature for a final vote. The Presley Bill has already passed the Senate Judiciary Committee. The legislature is moving faster than anticipated. It is important that we apply public pressure at every step. We must act now!
The CDC claims that new prisons are needed because existing prisons are overcrowded, rundown, and located far from urban centers. But new prisons will not necessarily mean better prison conditions or the tearing down of the old prisons. New prisons will cause more people to be locked up under the same intolerable conditions that exist now. The vast majority of prisoners are low-income, and a disproportionately high number are Third World. Their crimes are those of economic and social survival: robbery, forgery and bad checks, and drug-related crimes are among the most common. Most homicides for which people are in prison are related to family violence, drugs, and car accidents.