As many of you know, I am on the advisory board of the Chicago Torture Justice Memorials (CJTM) and my organization Project NIA is also very involved in the current struggle to pass the Burge Police Torture Reparations Ordinance. Below is an update on the reparations fight written by CJTM. Join us in the struggle.
The movement to pass the Burge Police Torture Reparations Ordinance is alive and well and building momentum each and every day! We are excited to share with you several promising developments and invite you to join the struggle by attending an upcoming rally, series of teach-ins on the Chicago Police torture cases, and meetings at Chicago's City Council.
Election Results
After Tuesday's election, we now have two mayoral candidates in the race. Cook County Commissioner Jesus Chuy Garcia has endorsed the reparations ordinance. Mayor Rahm Emanuel, on the other hand, has not endorsed the ordinance. CTJM continues to demand that Mayor Emanuel fully support the ordinance and call for an immediate hearing on the ordinance in Chicago City Council's Finance Committee. (#RahmRepNow).
Homan Square Exposed, Rally Tomorrow at 6pm
Since the election, the Chicago Police Department's use of coercive, torturous and abusive tactics are being raised again in the media in response to a series of articles published by Spencer Ackerman in the Guardian about the disappearance of arrestees for excessive number of hours at the Chicago Police Department's Homan Square. Many in the media, including Chris Hayes of MSNBC, have noted Chicago's troubled history with police torture, citing the Burge torture cases and Mayor Emanuel's failure to provide reparations to the Chicago Police Torture survivors.
Today, in response to these articles and mounting public outcry to all acts of law enforcement violence, there is a rally, Reparations Not Black Sites: A Rally for a Run Off, at Daley Plaza, 50 W. Washington at 6 p.m.
Upcoming Events: #Teach Burge, City Council Hearings, and an Exhibition-In
Further, in support of the Reparations campaign and political self-education, CTJM and Project NIA are launching City Wide Teach-Ins on the Burge Torture cases, entitled #TeachBurge. We are calling on teachers, educators, organizers and activists to conduct teach-ins on the cases from March 9 through March 22, and we have created a series of materials for you to use here. One of the first Teach-Ins will be at the Hull House on March 10, from 4 to 6 p.m., please rsvp here if you would like to attend.
Members of CTJM, Project NIA and supporters plan to pack the City Council's Finance Committee meeting on March 16 at 10 a.m. and the City's Council meeting on March 18 at 10 a.m., and demand a hearing on the Reparations Ordinance.  The ordinance was filed in October of 2013, and it has sat in the Finance Committee for over a year and half without any action on it. The torture survivors and their family members have waited long enough to be heard and for justice.
Both meetings will be held at City Hall, 2nd Floor, 121 N. LaSalle Street, Chicago, Illinois.  We are trying to get a head count on the number of people who can attend either or both of these meetings.  Please join us for one or both days at City Hall, and fill out this survey to let us know when you can attend.
Immediately following Wednesday's City Council meeting, there will be a pop-up art exhibit on reparations. The Exhibition-In, March 18, 12 – 5pm on the 5th floor of City Hall, will address police torture under Burge and underscore the need for immediate redress through the Reparations Ordinance. Individuals and groups are welcome to attend.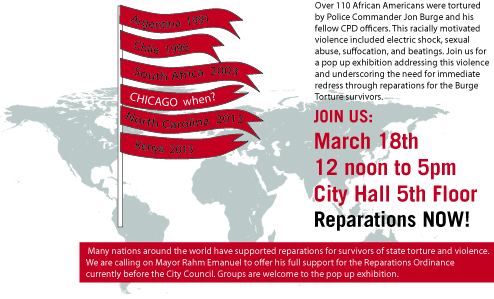 Support the Campaign
Finally, CTJM is comprised of all volunteers and this is a truly grassroots campaign seeking the passage of the Reparations Ordinance. While we have accomplished so much based on peoples' power, creativity and generous in kind donations, we still are need of money to help support the work we do.  Please consider donating to CTJM here to help further support the campaign to pass the Reparations Ordinance.
With your support we know we can get the Reparations Ordinance passed! If you would like to get more involved with CTJM, please email justicememorials@gmail.com and for more information on the ordinance or the Chicago police torture cases check out www.chicagotorture.org.
Watch the 2/14 Rally for Reparations: A People's Hearing below: