Last Thursday, on Martin Luther King's birthday, about 50 people gathered at City Hall to sing for reparations.
As the Chicago Sun Times editorial page called yesterday for Mayor Rahm Emanuel to compensate survivors of Jon Burge's torture, it's clear that pressure is building on the Mayor to get on the right side of history. I've written briefly about why I think reparations for police torture survivors are important:
For me, the reparations ordinance is a memorial for the living. The ordinance's stubborn insistence that people (no matter what they have done) should be compensated for torture is a little earthquake. It shakes up and re-configures the normalization of punishment. To say that the state needs to formally apologize for harm done is important too.
I've been heartened to see the recent interest that young people in particular have taken in this issue. Many of the people who have been supporters of the Burge torture survivors are older by virtue of the prolonged nature of the struggle. I hope to see many more young people join organizing efforts around the reparations ordinance and more. The fight needs their creativity, ideas and energy. We also need older people to participate too. We need everyone to win.
So this is another call to action. Please join us as we press forward to pass the reparations ordinance for Chicago police torture survivors. Here's how you can help:
1. THIS Wednesday January 21st at 10 am is the Chicago City Council meeting and we would love a roll call of supporters who could attend in solidarity with survivors of police torture.If you can attend, please email niapoetry@gmail.com by 5 pm today to let us know and for more information.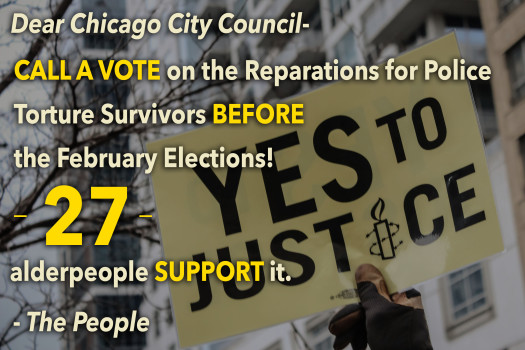 2. Please contact the alderpeople who have yet to support the ordinance and demand that they support it. Call, tweet, email them. You can find all of their names and contact information HERE.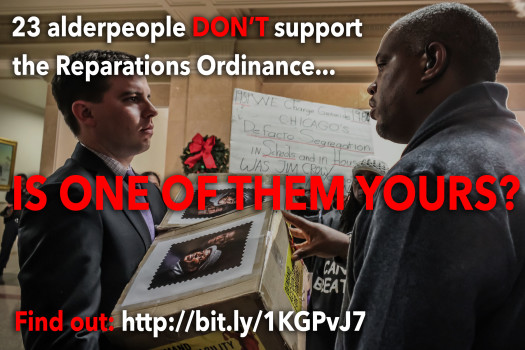 3. Call Mayor Rahm Emanuel at 312-744-3300 & do it every day. Demand that he offer his full support for the reparations ordinance and that he tell the City Council to hold a hearing on it and VOTE.
4. If your alderperson is a supporter of the ordinance, call them and thank them.
5. Follow the Chicago Torture – Justice Memorials on Facebook and Twitter to keep up with the latest news and for information about upcoming actions.