This morning on Dr. King's birthday, I'll be joining friends and comrades at City Hall to sing in for reparations. This action is the third one in a month and is focused on pressuring Rahm Emanuel and the Chicago City Council to pass a reparations ordinance for police torture survivors. Over half of the council has expressed their support for the ordinance, the Emanuel administration is the current obstacle to passage.
My Goddaughter recently asked why it is important to pass this reparations ordinance. I gave a number of reasons having to do with fairness, restitution, decency, morality and more. Above all though, I told her that it would be one way to concretize the meaning(s) of #BlackLivesMatter. As political philosopher. Joy James has said: "Black lives matter because we make them matter." Insisting that black people who are tortured by the state be compensated for this harm is one way that we can make Black lives matter.
As protesters around the world have taken to lying down in public spaces, staging "die-ins," I've been uncomfortable and mute. I've been screaming inside though: "The system already wants us dead. Living is resistance."
I saw a photograph on Twitter a few weeks ago. It was of a young black woman lying on train tracks as a "die-in" protest against police violence.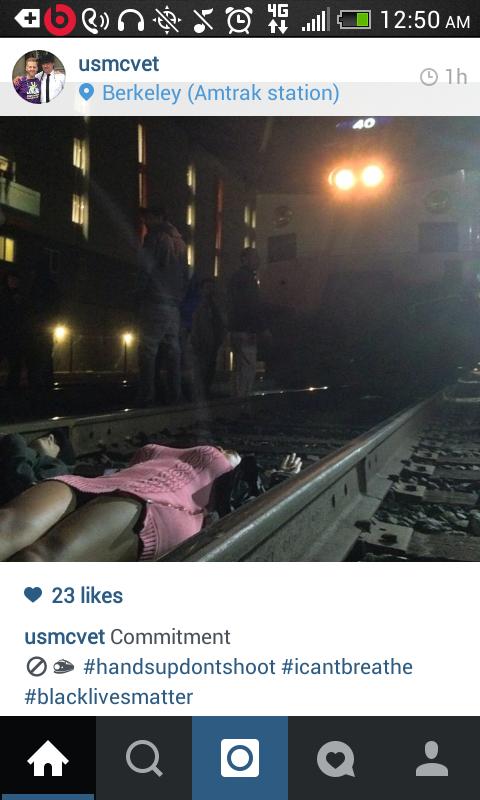 The image has haunted me. I'm over dying in. I hate death.
But I have kept my mouth shut because who cares, really, about what I think of a particular protest tactic. There are plenty of tactics that I disavow but I don't use my small platform to do so publicly. And besides, plenty of people think die-ins are symbolically effective.
For me, the reparations ordinance is a memorial for the living. The ordinance's stubborn insistence that people (no matter what they have done) should be compensated for torture is a little earthquake. It shakes up and re-configures the normalization of punishment. To say that the state needs to formally apologize for harm done is important too.
At City Hall today, survivors of Jon Burge's torture will once again speak of it loudly, publicly and with courage. And those of us who are there to listen and demand restitution will sing. It's a live-in. Join Us.