Tomorrow is the release event for a new publication that I've been working on titled "Chiraq and its Meaning(s)." I am privileged to partner with Temporary Services who invited me to do this and who designed the publication.
Regular readers of this blog know that I've been interested in the idea of "Chiraq" for a few years. I've been threatening to create some sort of project based on that interest for some time.
This summer, when Temporary Services invited me to collaborate with them to create a publication as part of an exhibition at the School of the Art Institute titled "A Proximity of Consciousness: Art and Social Action," I took it as a sign to delve into the long delayed "Chiraq" project.
I distributed a call for submissions this summer inviting Chicagoans of all ages to send in words, images or audio considerations of their Chiraq meaning(s). You can hear some of the audio submissions here.
In late August, I organized an event titled "Rethinking and Reimagining Community Safety: An Intergenerational and Interactive Discussion" at the Hull House Museum. We had an overflow crowd and engaged in activities such as yoga, art and more. This event officially kicked off a year-long exploration of the concept of "Chiraq" and community safety.
Throughout the next few months, I will consider with others in my communities the differences between security and safety. I will explore the material and psychological consequences of using such terms like "Chiraq" or "Terror Town" to describe communities and lived experiences. I will continue to engage more conversations about violence in all of its forms. I don't know how this will shake out in the end. Tomorrow's release of the publication "Chiraq & its Meanings" only marks the beginning of my inquiry.
This publication is a cacophony of voices and doesn't provide answers or a single definition of the meaning(s) of violence and safety in Chicago. Instead, it is an invitation for others, for you, to add your ideas and thoughts to the larger conversations that we are having in this city in our local communities, workplaces, and families. If you live in Chicago, you can continue to add your voice by submitting your own thoughts and ideas about the meaning(s) of Chiraq. Email us at projectnia@hotmail.com and we will post your responses at the meaning(s) of Chiraq tumblr. Also, look for future gatherings, discussions, interventions and more throughout the next few months.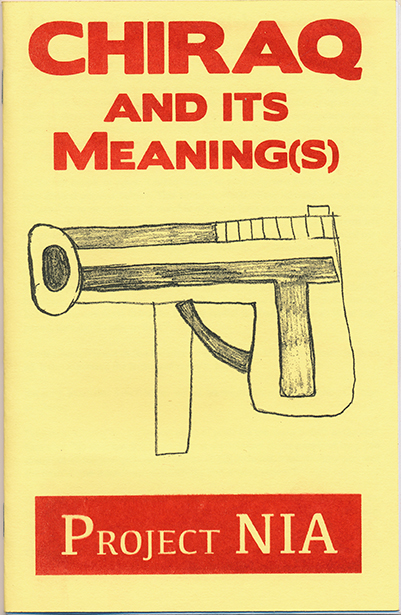 If you are in Chicago, you are all invited to the publication release event tomorrow at 6 p.m. Details are here. For those who are not in Chicago or cannot attend the release event tomorrow, you can order a copy of the publication for $5 here (it includes a curriculum unit that you can use to spark conversations in your classrooms and communities). It also includes a beautiful poster created by my friend, the amazing artist Mauricio Pineda.