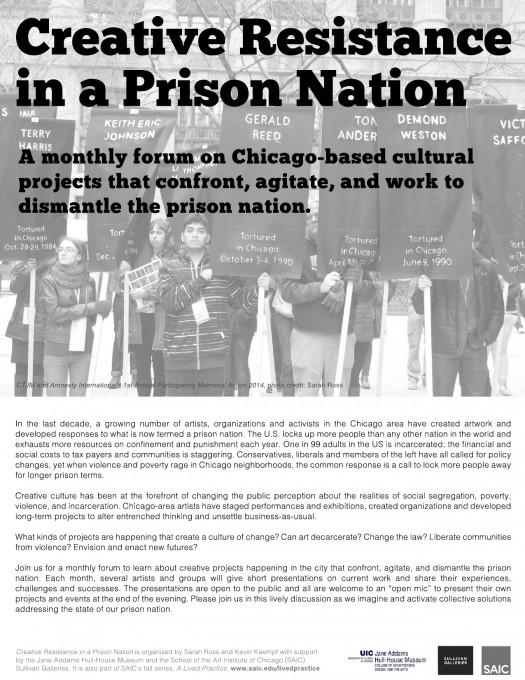 A monthly forum on Chicago-based cultural projects that confront, agitate, and work to dismantle the prison nation.
In the last decade, a growing number of artists, organizations and activists in the Chicago area have created artwork and developed responses to what is now termed a prison nation The U.S. locks up more people than any other nation in the world and exhausts more resources on confinement and punishment each year. One in 99 adults in the US is incarcerated; the financial and social costs to tax payers and communities is staggering. Conservatives, liberals and members of the left have all called for policy changes, yet when violence and poverty rage in Chicago neighborhoods, the common response is a call to lock more people away for longer prison terms.
Creative culture has been at the forefront of changing the public perception about the realities of social segregation, poverty, violence, and incarceration. Chicago-area artists have staged performances and exhibitions, created organizations and developed long-term projects to alter entrenched thinking and unsettle business-as-usual.
What kinds of projects are happening that create a culture of change? Can art decarcerate? Change the law? Liberate communities from violence? Envision and enact new futures?
Join us for a monthly forum to learn about creative projects happening in the city that confront, agitate, and dismantle the prison nation.
Each month, several artists and groups will give short presentations on current work and share their experiences, challenges and successes. The presentations are open to the public and all are welcome to an "open mic" to present their own projects and events at the end of the evening. Please join us in this lively discussion as we imagine and activate collective solutions addressing the state of our prison nation.
Creative Resistance in a Prison Nation is organized by Sarah Ross and Kevin Kaempf with support by the Jane Addams Hull-House Museum and the School of the Art Institute of Chicago Sullivan Galleries.
SCHEDULE
Thursday, September 25th
7:00 – 9:00 PM
Sullivan Galleries
33 S. State St., 7th floor, Chicago, IL 60603
Chicago Torture Justice Memorials (CTJM)
Temporary Services
Billy McGuinness
Prison + Neighborhood Arts Project (PNAP)

Thursday, October 9th
7:00 – 9:00 PM
Hull House Museum
800 S. Halsted
Project NIA
Storycatchers Theatre
Lucky Pierre

Thursday, November 13th
7:00 – 9:00 PM
Jane Addams Hull-House Museum
800 S. Halsted St., Chicago, IL 60607
96 Acres
Dorothy Burge
Mary Patten
Free Write Jail Arts and Literacy Program

Thursday, December 11th
7:00 – 9:00 PM
Jane Addams Hull-House Museum
800 S. Halsted St., Chicago, IL 60607
Rachael Hudak
Tirtza Even
Eddie Bocanegra