Over the next couple of weeks, you are invited to participate in a series of events that are centered on the case of Marissa Alexander.
In 2012, Marissa Alexander, a mother of three, was sentenced to twenty years in the Florida criminal correctional system for defending herself from her abusive estranged husband. Nine days after giving birth to a premature daughter, she fired a single warning shot upwards into a wall to halt her abusive partner during a life-threatening beating. Despite the fact that Marissa caused no injuries and has no previous criminal record, and despite the fact that Florida's self-defense law includes the right to "Stand Your Ground," she was arrested, prosecuted, and incarcerated. Her sentence was set at 20 years in part due to the state's mandatory minimum sentencing laws. Marissa successfully appealed the trial, overturning the guilty verdict on 9/26/13. On 11/26/13, Marissa was finally released on bond and is currently under house arrest. Her new trial is scheduled for 12/8/14. Prosecutor Angela Corey will seek a 60-year sentence if Marissa is found guilty.

The Chicago Alliance to Free Marissa Alexander (CAFMA) and The Free Marissa Now Mobilization Campaign have been working diligently to educate the public about Marissa's case and also to raise money for her legal defense.  Though her legal team is working pro bono, Marissa faces $250,000 in legal expense, including court fees, expert witnesses and processing evidence to insure an excellent defense for her retrial. Additionally, Marissa pays $500 every two weeks for bond payments and $105 each week for ankle monitoring. She is prohibited from working while under house arrest.
Please join CAFMA for a series of events to raise awareness about Marissa's case, to learn about the historical context of the case, and to take action.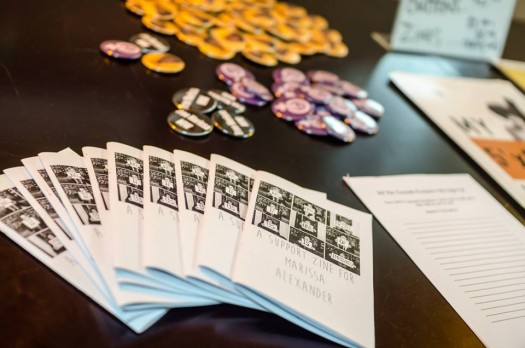 July 18, 6 to 9 p.m. – Opening Reception for No Selves To Defend Exhibition at Art in These Times, 2nd floor of 2040 N Milwaukee Ave. Chicago, IL 60647 USA. Details are HERE. Facebook event page here.
July 18 through September 21 – at Art in These Times – No Selves To Defend: An Exhibition about the Criminalization of Women of Color
July 19, 1 to 4:30 p.m. Free Screening of Crime After Crime – Join us for a screening and discussion of the film Crime After Crime. Roosevelt University, 425 S. Wabash Ave, Room 418. RSVP to freemarissachicago@gmail.com. – Facebook event page here.
July 25, 5:30 p.m.: Sticks and Stones and Stories – Storytelling for Self and Survival. Storytelling to fight back. Storytelling in Solidarity
The more we are injured by oppressive institutions and trauma in our lives, the more we are identified by the stories told about us, and not the stories we share about ourselves. This event is about sharing personal experiences of forcible displacement. That can happen through incarceration, deportation, detention, eviction, or other systems that exist to confine us to a single identity: criminal, unfit, illegal, homeless, invisible. We can fight that violence against us. We can share something about our lives and how we see ourselves, and find love and support in the process. That solidarity makes us infinitely more powerful, unstoppable, and ready to fight back! Join us.
What: Story Sharing Event plus Dinner
Where: 114 N Aberdeen, Chicago
When: Friday, July 25, 5:30 pm
This event is co-organized by Chicago Alliance to Free Marissa Alexander, Black on Both Sides, Moms United Against Violence and Incarceration. Contact Holly for more info: 630-258-8552, holly.krig@gmail.com
July 26, 2 p.m.: A Community Gathering and Rally in Support of Marissa in solidarity with Stand Our Ground Week of Action. We invite all community members to join us in song, performance, poetry and more. This is a family-friendly event. More details to come.
Find all upcoming events here.