Over the past few months, I have heard a number of people speak about Chicago school closings. Unfortunately, many people were woefully uninformed about the key issues. As a public service, I have aggregated some articles and resources that I found most informative and useful in understanding the Chicago school closings struggle. I have intentionally limited the list to 10 items.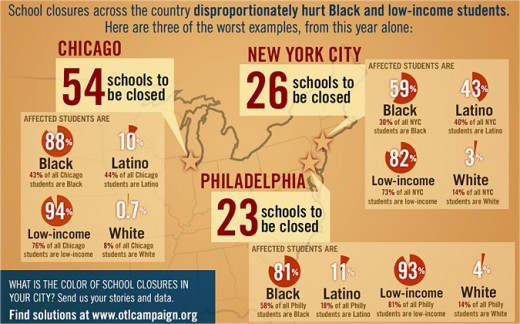 Background
Fact Check: Chicago school closings by Becky Vevea and Linda Lutton, May 16, 2013 – If you only read one piece, read this one. It provides the most comprehensive consideration of all of the claims that have been made by the Chicago Public Schools about the necessity to close over 50 schools.
Common Sense on School Closings by Curtis Black, May 20, 2013 — Curtis does a terrific job in this post separating lies from truth.
CReATE Research Brief on School Closures by Chicago Researchers and Advocates for Transformative Education, March 19, 2013
Chicagoans Talk About What Will Be Lost If Their Schools Close, WBEZ (Audio), May 22, 2013
CPS Closings: Interactive Map with Affected Schools, Gang Lines by Mark Konkol, May 21, 2013
Analysis and Larger Context
Disaster Capitalism, Chicago Style by Kenzo Shibata, February 22, 2013
Marching in Chicago: Resisting Rahm Emanuel's Neoliberal Savagery by Henry A. Giroux, May 20, 2013
No Act of God Caused Chicago Schools to Close by Rev. John Thomas – CHICAGO THEOLOGICAL SEMINARY, May 23, 2013
School Closings, Spring 2013 Issue of Catalyst Magazine
Where The Real Danger Lies by Marilyn Katz, May 23, 2013
Reactions and Aftermath – [BONUS ITEM]
Karen Lewis Reacts to Largest Mass Closure of Public Schools in U.S. History
Watch the following excellent video. The struggle continues!