In most cases, it is already a FELONY to illegally possess a gun in Illinois. Illinois has among the strictest gun laws in the nation.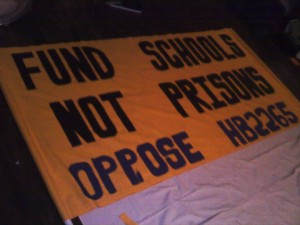 In the next few days, however, the Illinois House will vote on HB2265, a bill that would increase the mandatory minimum sentence for weapons-related offenses from one year to three. There is corresponding bill in the Senate (SB1003).
This bill originated on the recommendation of Mayor Rahm Emanuel and is being enthusiastically advocated for by Cook County State's Attorney Anita Alvarez.
When Illinois imposed a mandatory minimum in 2011, there was no deterrent effect. In fact, the murder rate increased by 16 percent. Rahm Emanuel wants to increase the prison population while closing schools. This "anti-gun" legislation will spike the prison population by nearly 4000 in the next decade, for no public safety gain. TWO NEW PRISONS WOULD BE NEEDED. This alone will require $974 million more in prison funding (source).
Rather than address gun violence in Illinois, HB2655/SB1003 is likely to add to our problems as a state by burdening an already over-taxed prison system and increasing our fiscal woes.
Tell your legislators No to HB2265/SB1003.
HB2265/SB1003 would increase the mandatory minimum prison sentence for unlawful use of a weapon. This bill allows legislators to look like they are being "tough on crime" while doing NOTHING to address the root causes of gun violence.
Your legislators are likely supporting this bill. Do not let legislators pretend to address the problem of gun violence by sweeping more young people in prison. Tell them to invest in proven methods of violence prevention. Please take 30 seconds to contact your reps with this LINK.
Ask them to Vote "NO" on HB2665/SB1003 because:
1) HB2265 will cost Illinois taxpayers nearly $1 Billion over 10 years and will increase the state's prison population by nearly 4,000 inmates, requiring the opening of two prisons to house them.
2) There is no conclusive evidence that increased prison sentences decrease the number of gun assaults. In fact, there is growing national consensus that mandatory minimums simply don't work!
Demand that our lawmakers to invest in the things that we know create safe, sustainable communities – good schools, decent jobs, and social services – not building more prison cells and passing laws like HB2665/SB1003 to fill them.
The same neighborhoods most impacted by gun violence are also devastated by mass incarceration. The proposed law will make things worse for communities already decimated by poverty, foreclosures, poor schools and drug addiction.
The fact is, we can't incarcerate ourselves into safety. We can only make our communities safer by investing in jobs, drug treatment, schools, physical and mental health, and providing wrap-around programs and support both for victims of crime, and people returning for prisons.
Note: Feel free to share the following Fact Sheet (PDF) created by the John Howard Association about HB2265/SB1003.