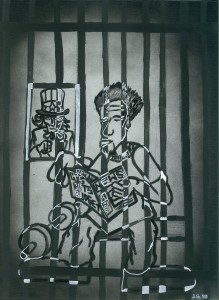 Last month, I presented at the American Society of Criminology's annual conference which took place in Chicago this year. The panel was about the school-to-prison pipeline which has become a sexy topic in the past couple of years.
Today, Congress is hosting the first ever hearing about the school to prison pipeline.
I submitted testimony for this hearing and below is an excerpt:
The School-to-Prison Pipeline in Chicago
In the last 20 years, advocates, students, educators, and researchers have pointed out the existence of a school-to-prison pipeline (STPP).[1]  The STPP describes how harsh school discipline policies and law enforcement policies intersect to feed young people into the prison system.  There has been an explosion of academic research, conferences, and media reports about this phenomenon.
The history of the current intolerance and punitive attitude existing both on the streets and in the schools can be traced back to Columbine. In the schools, the post-Columbine era saw the introduction of federal and state ordinances leading to zero tolerance policies. In the streets, the war on drugs led to more punitive criminal legal responses as a whole (three strikes, mandatory sentencing, zero tolerance). 
Racial disparities mark the rate of school suspensions and expulsions. In fact, numerous studies and reports document disproportionate disciplinary practices towards African American male students in particular. This is part of a national trend to criminalize rather than educate students.
Police officers play a critical role in this pipeline and many of them seem to recognize this fact. A school police officers' union in California created an uproar last year by designing and selling t-shirts depicting a young boy behind prison bars with the words: "U Raise Em, We Cage Em."[2]  The local community was rightly incensed by this; yet it should not have come as a surprise that cops see their role in schools as arresting and incarcerating young people.
We can be fooled into believing that schools with metal detectors, surveillance cameras, and police officers feel safe to students, teachers, and staff.  However, data from the Consortium on Chicago School Research (CCSR) suggests something different:
"it is the quality of relationships between staff and students and between staff and parents that most strongly defines safe schools. Indeed, disadvantaged schools with high-quality relationships actually feel safer than advantaged schools with low-quality relationships."[3]
In addition, the presence of police officers in our schools often has negative ramifications for students. A national study by the Justice Policy Institute titled "Education Under Arrest (PDF)" makes a convincing case that:
"…when schools have law enforcement on site, students are more likely to get arrested by police instead of having discipline handled by school officials. This leads to more kids being funneled into the juvenile justice system, which is both expensive and associated with a host of negative impacts on youth."[4]
In January 2012, we released a report titled "Policing Chicago Public Schools: A Gateway to the School-to-Prison Pipeline." The report relies on data from the Chicago Police Department (CPD) to show (for the first time in seven years) the type of offenses and the demographics (gender, age and race) of the juveniles arrested on CPS properties in calendar year 2010.  We were limited in our findings because CPD reports data by police district rather than by individual school.
The key data points in the report are that:
Too many young people are still being arrested on CPS properties.  Over 5,500 arrests of young people under 18 years old took place on CPS properties in 2010.  If we include those between 18 and 20 years old, the number increases to over 6,100 arrests.
Black youth are disproportionately targeted by these arrests. While they represent 45% of CPS students, black youth account for 74% percent of juvenile school-based arrests.  This mirrors the general trend of disproportionate minority contact within the juvenile legal system. For example, while they comprise only 34% of youth ages 5 to 17 in the city of Chicago, African American youth accounted for 76% of citywide juvenile arrests (youth 17 and under) in 2010.
Young men are much more likely to be arrested on CPS properties than are their female counterparts [73% vs. 27%].
Male youth under 21 years old are most often arrested on CPS property for simple battery followed by drug abuse violations and disorderly conduct.  Females under 21 are most often arrested for simple battery, disorderly conduct and miscellaneous non-index offenses.  Nearly a third (27%) of school-based arrest offenses on CPS property is simple battery.  This suggests that a significant number of CPS students are probably being arrested for fighting.
Certain police districts are more likely to arrest youth in schools than others. In particular, the highest aggregate[5] numbers of juvenile school-based arrests are in the 4th, 6th, 8th, 22nd, and 5th police districts.  Together these five districts account for 39% of total juvenile school-based arrests on CPS properties.
In discussions about the school-to-prison pipeline, we need concrete examples of how the process works. As such, it is important to understand the role that police and security staff play in our schools.  Yet reports about police involvement in CPS have unfortunately not been readily available to the public.  There is no easily accessible citywide or statewide data that illustrate how many students are arrested in schools each year.  The last report that was written about the role of police in Chicago Public Schools was published in 2005 by the Advancement Project.  That report, "Education on Lockdown," found that Chicago Public Schools (CPS) referred over 8,000 students to law enforcement in 2003. Forty percent of these referrals were for simple assault or battery with no serious injuries. Most of these cases were dismissed[6].
In light of the issues raised in this report, we recommend a few solutions intended to help reduce the reliance on law enforcement in Chicago Public Schools (CPS).
CPS needs to move beyond the rhetoric of restorative justice and fully fund credible restorative programs in the schools.
We need timely and reliable data tracking the numbers of school-based arrests in CPS.  Based on the advocacy of students and organizers, the New York City Council passed the "Student Safety Act" in early 2011.  According to the New York Civil Liberties Union, "the Student Safety Act creates accountability and transparency over police behavior in our schools. Specifically, the Student Safety Act:
Requires the Department of Education to report to the City Council on the numbers of suspensions, expulsions, arrests and student-police altercations in schools. The City Council can then track and monitor whether discipline is being enforced equally for all students.
Provides lawmakers and the public vital access to raw data on school disciplinary actions.
Increases transparency at the NYPD School Safety Division and the Department of Education."  Chicago needs its own "Student Safety Act." 
We call on CPS to re-direct resources away from policing to enrichment programs that will support the healthy development of students.
Finally, we call on policymakers, law enforcement, and school administrators to ensure the privacy of student records.  We strongly oppose the efforts to violate student privacy by increasing "information-sharing" between law enforcement and educational institutions.
To access the full report, visit the Policing Chicago Public Schools blog.
Closing "Failing" Schools: Another Aspect of the Pipeline
Last year, the nation was greeted by stunning news.  In an attempt to close a budget deficit of over $327 million, the city of Detroit decided to close half of its public schools.  The schools will be shuttered over the next four years.  This move will likely cause high school class sizes to swell to 60 students.  If you think that this is a joke, you would be mistaken.  74,000 students remain in Detroit Public Schools; down from nearly 160,000 just ten years ago.  Visualize for a few seconds what this plan means… Detroit will reduce the number of schools in the district from 142 to 72.  In other words, the city will close 70 schools leaving 72 open to educate the remaining students.
Sometimes, discussions about the school to prison pipeline can either be overly analytical or overemphasize individual stories.  Analysis is good and so are individual stories.  However what is also  needed is a case study that illustrates the systemic nature of the school to prison pipeline.  We have found that in Detroit.
The Detroit school system which has been admittedly mismanaged has been hemorrhaging students for years .  A recent study suggests that "[a]t more than half of Michigan's high schools, fewer than 10% of students graduating this spring are college ready." Unsurprisingly most of these students are concentrated in the Detroit public school system. With such dismal results, some will argue that in Detroit, the school to prison pipeline is already in full effect.  I do not disagree with this assessment.
However, the active dismantling of a city's entire public education system cannot be the solution for addressing the system's current failings. The truth is that families who have resources and the means have already pulled their children out of Detroit public schools over a period of years.  Those young people who are left behind are unsurprisingly the poorest and least mobile ones.  Closing 70 schools will not improve their lot and will in fact make their educational experiences even worse, causing even more of them to drop out of school. Detroit in making the decision to close half of its schools has decided to, in effect, consign its remaining 74,000 students to the prison system. Low-income parents in Detroit must be suffering even more sleepless nights.  This plan is short-sighted and also cruel.
Michigan already spends $2 billion a year — more than it spends on higher education — on one of the nation's largest prison systems.   Residents of the state should now expect that number to increase over the next few years.  Most of Michigan's 44,000 prisoners don't have high school diplomas and the state's current school closing plan will ensure that future prisoners suffer the same fate.
We are watching something truly astonishing taking place in Detroit – the wholesale abdication of public responsibility for our children.   We here in Chicago worry that the same thing is happening with respect to the school closure policy that is currently being implemented by the Chicago Public Schools.
Conclusion
The School to Prison Pipeline is a civil rights and racial justice issue. It is not just a juvenile justice issue but also a general criminal justice one. At bottom, the pipeline is a critical education issue. In 1970 there were 1.7 million students suspended per year in American schools. That figure doubled to 3.8 million annual suspensions in 2009. We believe that it is not student behavior that has changed but rather our responses to that behavior.  This means that we can intervene and that this pipeline can be dismantled.
The subjective nature of school discipline and punishment lends itself to inequity. When looking at suspension reports, words like disruptive and disobedient are often examples of behavior that lead to suspension.  However, disobedience is truly in the eye of the beholder and the existence of racism means that young black boys in particular find themselves most often punished for this type of behavior.
We must target and eliminate such inequities within our educational system but also in society at large in order to dismantle the school to prison pipeline.
UPDATE: Here is a summary of the hearing today.
---