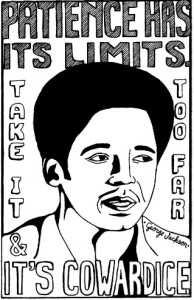 Correction: Jackson was killed on August 21, 1971. I thought today was the 21st but it is actually the 20th.
George Jackson may be one of the most well-known political prisoners in the U.S. His book, Soledad Brother, offered a powerful analysis of the American prison system and was declared contraband when it was published. It still made its way into the hands of many prisoners including some of the leaders of the Attica uprising. He was killed by guards at San Quentin prison 40 years ago today allegedly during an escape attempt. No one believes that he was actually trying to escape.
The following program by the Freedom Archives does a terrific job of recapping the life and significance of Jackson. I recommend it highly.
George Jackson – 40 year commemoration from Freedom Archives on Vimeo.
** Note the image of Jackson in this post was created by my friend Katy Groves for the Attica Prison Uprising Short Primer that we just released this week. You can see more of Katy's illustrations about Attica in the appendix to the primer here.