I have written a lot about supporting girls in conflict with the law on this blog. This is mainly because I have such a passion for working with girls and young women in general. Much of my adult work has focused specifically on this population. I have also shared information about a terrific project that I am blessed to be associated with here in Chicago called Girl Talk. Girl Talk has a long and illustrious history. It officially ended in 2005 and I have been part of a team that just revived it again earlier this year. You can learn more about Girl Talk's values and our conceptualization of our role as a group that works inside a jail here.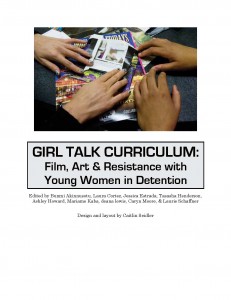 I am happy to share a new resource today: The Girl Talk Curriculum – Film, Art, and Resistance with Young Women in Detention. You can visit the Girl Talk blog to access this curriculum. I believe that it will be of use to others who work with young women in conflict with the law. It is also a resource that I believe would work equally well with girls on the outside.
I feel really lucky to be sharing time on the planet with the members of the Girl Talk Leadership Team. I am awed by these women's fierceness, talent, brilliance, and compassion. I know that many others are working inside juvenile jails and prisons across the world. We hope that this new resource will be of use to your work. Let Girl Talk know what you think about the curriculum guide! Again the guide can be accessed through the Girl Talk blog HERE.